Beautiful buildings, narrow cobbled streets and a picture-perfect waterfront is what made me fall in love with Porto right from the moment, I stepped outside our guesthouse and started exploring this beautiful city. I even enjoyed it a lot more than Lisbon and I can't wait to hopefully get back soon.
Porto is the second largest city in Portugal located in the north-western part of the country next to the Atlantic Ocean. From there, the Douro river divides the historic center of Porto and the Vila Nova de Gaia, which are still connected by many bridges.
The city can be visited within a day, but we spent in total 3 days there. In the beginning for all the sight-seeing 2 days and we also ended our trip there. You can easily reach everything by foot, which we did, yet we ended up walking 40km in the first 2 days. Since it's very hilly and can be very hot, of course you can also take the public transport.
For this trip I preferred to just walk around without any research in advance and just explore by going with the flow. This turned out pretty well and we ended up walking the perfect route around the city.
We discovered this viewpoint by coincidence and it gives you a really nice view over the historic center, the Douro River and the famous blue Luis I Bridge. We were here in the early morning and had the whole place to ourselves. From here you can walk down to Portos riverside area Cais da Ribeira.
This ancient riverside area is a very beautiful piazza with lots of bars and restaurants, as well as little markets. You get a nice view of the picturesque Luis I Bridge and can cross this bridge to Vila Nova de Gaia. It's almost 45m high and you can cross it from the Cais da Ribeira or on the top level, where the railway crosses too.
The city on the other side of the Douro River is called Vila Nova de Gaia. Up on the hill you can find a little park, called Garden of Morro, where you can have a little rest with a breathtaking view of the city and it's the perfect place for enjoying the sunset. Right next to the park, there's the Mosteiro da Serra do Pilar, from where you'll be able to enjoy another beautiful view.
This railway station is located in the historic center of Porto and was built from 1904 to 1916. It's considered as one of the most beautiful railway stations of Europe. The walls are covered in traditional blue azulejo tiles and azulejo paintings, which show different scenes and historic events of the region. These tiles are very famous for Porto and featured on many other buildings in Porto, such as the Porto Cathedral or the Igreja de Carmo.
This funicular railway was built in 1891 and belongs to the steepest railways of the world. It runs along an old city wall and takes you up to Praça da Batalha. The view from inside is amazing and definitely worth taking a ride.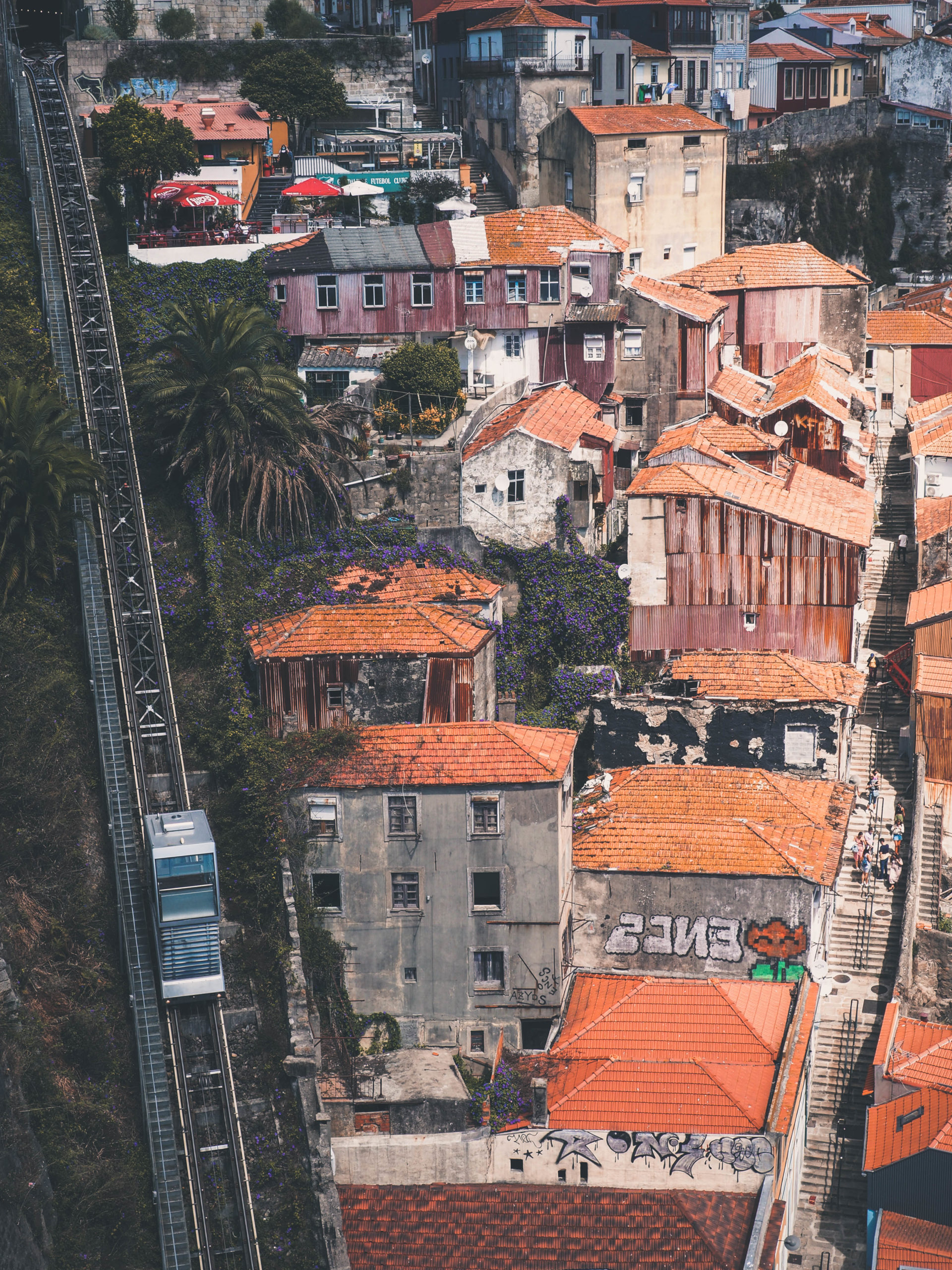 Galeria da Biodiversidade
The Hall of Biodiversity is located next to the Botanical Gardens and a very interactive and interesting museum. It's designed in modern white walls and a wodden floor. The biological knowledge is presented very creative in an unique way.
This wine is one of the things you should try while visiting Porto, since the wine is produced in the Douro Valley around Porto. Typically it's fortified red wine and tastes very sweet. You can find it all over the city and even experience a specific wine tasting. To be honest, we prefer normal wine, but we wouldn't be able to hold this opinion without having tried the Port wine.
This dish is very popular all around Portugal, but since I'm a vegetarian, I didn't try it, thought it's worth mentioning here anyway though. Bacalhau is Portuguese for codfish and you can enjoy it in different variations and side dishes such as chickpeas, potatoes or eggs.
This Portuguese sandwich is originally from Porto and made of bread, ham, sausages, meat and melted cheese and eggs on top. It's covered in hot sauce and served with french fries. The Francesinha was first created in 1953, but became popular very quick and is now served at every Portuguese restaurant in Porto.
This is by far my favorite traditional portuguese food. These little egg tart pastries are found everywhere in Portugal and taste so good. They were originally produced in Belém in Lisbon by catholic monks and you can still find a shop of Pastéis de Belém there. Definitely give them a try, you won't regret it!
I hope you enjoyed reading this blog post and feel free to leave a comment below 🙂
Click here to get to my photo gallery of Portugal!